iSpot user James McCulloch wins UK biological recording Youth Award
iSpot user James McCulloch wins UK biological recording Youth Award - Global : [upload-images-James cropped 001_1950s 140.jpg] iSpotnature.org user 12 year-old James McCulloch is the winner of one of the first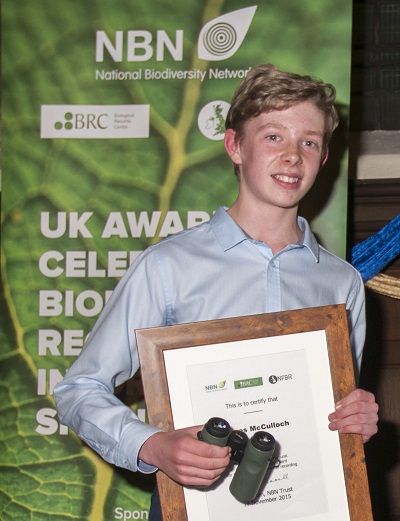 iSpotnature.org user 12 year-old James McCulloch is the winner of one of the first UK Awards for Biological Recording and Information Sharing . James was announced the winner of the Gilbert White youth award for recording terrestrial and freshwater wildlife at the Merchant Taylor's Hall, York at an evening ceremony during the National Biodiversity Network (NBN ) Conference on Thursday November 19, 2015.

The awards, developed by the NBN, the National Forum for Biological Recording and the Biological Records Centre, are aimed at recognising and celebrating the outstanding contributions made by adults as well as young people to biological recording, which is helping to improve our understanding of the UK's wildlife.

James' interest in wildlife began through bird watching in his garden and at local nature reserves and he now regularly submits records to Birdtrack and Sussex Ornithological Society. However this interests now extends beyond birds and he has been an extremely active member of the www.iSpotnature.org community since December 2012, contributing over 2200 observations and over 2500 identifications. He has acquired over 6000 social points and has also originated over 30 projects on iSpot ranging from Longworth trapping to Bryophyte identification. See one of James projects here: www.ispotnature.org/projects/knepp-rewilding-project.

He joined the Pan-species Listing web site during 2015 and has already recorded almost 1000 species across virtually all the non-marine taxonomic groups. James writes a blog about his wildlife experiences detailing not only what he has seen but provides background information about the ecology, distribution and identification of the species.

As well as enjoying recording species of all kinds, James is passionate about passing on his knowledge and enthusiasm for nature. He shares his observations through short Youtube videos in which he is intending to feature as many species in his garden as possible.

Other Award Winners include:
• Ian Evans and the late Pat Evans - the Gilbert White adult award for recording terrestrial and freshwater wildlife.
• Callum Ullman-Smith - the David Robertson youth award for recording marine and coastal wildlife.
• David Fenwick - the David Robertson adult award for recording marine and coastal wildlife.
• Nigel Jee - the National Biodiversity Network Special Award.
• The Mammal Society - the John Sawyer NBN Open Data award.
iSpotnature.org congratulates James and all the other awardees on their remarkable achievement and contribution to biological recording!
25 Nov 2015
Janice A
Main navigation