Welcoming the new iSpot Southern Africa community
Welcoming the new iSpot Southern Africa community - Global : [upload-images-sanbi_logo_140.png] iSpot has been running very successfully in southern Africa for the past three years, led by the South African National Biodiversity Institute. As
Since iSpot has been active in southern Africa, over 8,000 iSpotters have joined and between them added over 160,000 wildlife observations. Among these have been exciting discoveries of rare species (some of which were feared extinct), as well as alerts for potentially damaging invasive species and lots of new information about the distribution of plants, animals and fungi over large areas of previously unrecorded habitat.

We're pleased to be able to incorporate all this activity into a single global iSpot, bringing together everyone's wildlife observations from around the world, and ensuring that new developments on iSpot become available to all our users at the same time. iSpot's southern African community and its resulting wildlife data is coordinated and led by SANBI, the South African National Biodiversity Institute, with Tony Rebelo acting as iSpot curator on behalf of SANBI.

If you've been using iSpot over the last week or two you will have seen that there have been periods when iSpot has been unavailable, or has been running more slowly than usual, and some of that has been the result of importing all the southern African observations, comments and other activity into iSpot global. Apologies for the inconvenience while this work has been carried out, but the majority of it is now complete and we hope that the site return to normal levels of performance now that things have settled down again.

Southern Africa is home to some amazing species and stunning habitats - if you haven't explored them on iSpot yet do have a look at the latest observations!

If you need a reminder about how to move between the different geographic communities on iSpot, see our Help pages: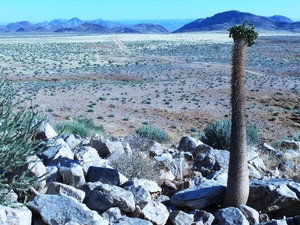 A landscape from Namaqualand on the borders of Namibia and South Africa - photo by Tony Rebelo of South African National Biodiversity Institute.
10 Dec 2014
Martin Harvey
Main navigation