iSpot leads to fungus discovery
iSpot leads to fungus discovery - Global : [upload-images-OrangePore_140.jpg] A fungus observation added to iSpot has been identified as a species only found once before
In October 2014 Dave Ellacott found a bright orange fungus at Primley Park, in Paignton, UK, the nature reserve for which he is warden, run by the Whitley Wildlife Conservation Trust. The fungus seemed distinctive, but Dave couldn't find it in his books, so he turned to iSpot for help. His fungus can be seen here on iSpot.

Within a very short space of time iSpotter 'Fungorum' was able to suggest an identification as Orange Pore fungus, Favolaschia calocera. This was subsequently confirmed by Dr Martyn Ainsworth, Senior Mycologist at Royal Botanic Gardens Kew, and Dr David Farley, of the Devon Fungus Group and British Mycological Society.

And the reason this fungus isn't in Dave's books is that it had only once before been found in the UK! Orange Pore fungus was first discovered in Madagascar and has since spread around the world. It grows on dead wood, and is most frequently seen in areas where habitats have been disturbed by humans, such as along transport routes. The fungus is considered to be an invasive species in several countries, with fears that it may be taking over the habitats of native species.

Non-native species are an increasingly familiar and significant part of the wildlife we see around us. On iSpot, people have contributed nearly 20,000 observations of over 1,000 non-native species in the UK. Most of these are species that live harmlessly alongside native wildlife, but 185 of the non-native species posted on iSpot are regarded as having a negative impact in the UK. iSpot is working with colleagues at the GB Non-native Species Secretariat and with relevant recording schemes to ensure these observations are made available for research into the effects of non-native species.

Dr Farley commented that "the appearance of Orange Pore fungus in the UK represents an unusual opportunity to observe the spread of a new arrival. Most fungi are difficult to identify, but this species is unlike any other that occurs here. The bright orange fan shaped fruit-bodies growing on dead wood and the presence of rounded pores rather than elongated gills on the underside help to mark it out. The individual fruit-bodies are only 10 to 15mm wide, but grow in dense clusters that are quite conspicuous." If you see this fungus in the UK please add the observation to iSpot, or contact one of the above organisations.

For more information and links to fungus identification and recording sites see the iSpot UK fungus and lichen group page.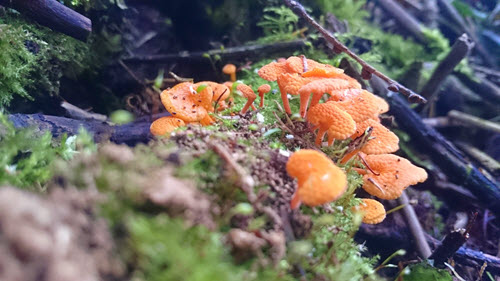 28 Nov 2014
Martin Harvey
Main navigation