iSpot's new Hong Kong community - welcome!
iSpot's new Hong Kong community - welcome! - Global : [upload-images-iSpotHK_140.jpg] Hong Kong has joined the iSpot international community - welcome! We look forward to helping Hong Kong's residents and visitors explore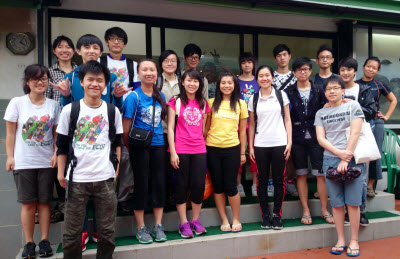 Tai Tam Tuk Eco Education Centre and the Environmental Life Science Society of the University of Hong Kong co-hosted a workshop piloting use of iSpot on a secondary student field trip.
Despite having one of the highest population densities in the world, 70% of Hong Kong is still green space and 40% country park. Hong Kong has more coral species than the Caribbean Sea, and over 500 bird species and 200+ butterfly species - more than London or New York City.

Having signed up to the Convention on Biological Diversity (CBD), Hong Kong is now drafting its first Biodiversity Strategy and Action Plan ready for 2015. Over 60 local institutions, NGOs, corporates and others have joined the government consultation. And like most parties to the CBD, we realise that public awareness will be key.

The iSpot Hong Kong community is being developed gradually through workshops and collaborations with local NGOs and leading experts. Jenna Ho Marris, acting co-ordinator/curator of iSpot HK, said: "This city is a little known haven for urban biodiversity, even to us locals, and we're excited to join the iSpot Global community to share and learn more."

Look out for new spottings, upcoming workshops, and please help us with identifications!

To explore the Hong Kong community on iSpot, click on "Change your home community" on the right-hand side of the iSpot page, and choose "Hong Kong".
29 Apr 2014
Martin Harvey
Main navigation