The Species browser - a new way to explore images on iSpot
The Species browser - a new way to explore images on iSpot - Global : [upload-images-SpeciesSurfer.png] We're pleased to announce a new feature on iSpot: the Species browser. This allows you to browse through the most frequently observed species in differe
We're pleased to announce a new feature on iSpot: the Species browser. This allows you to browse through the most frequently observed species in different groups of wildlife, and can help you identify what you have seen.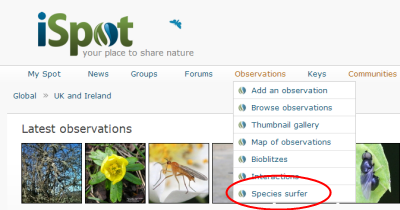 To try out the browser, click on the "Explore community" menu at the top of the page and select "Species browser".

For full details about how to make best use of the browser see our help page.
08 Jan 2014
Martin Harvey
Main navigation