Welcoming iSpot's new community in Chile
Welcoming iSpot's new community in Chile - Global : [upload-images-iSpotChile_140.jpg] Welcome to iSpot's new community in Chile! A recent workshop at Universidad Catolica del Norte, in Coquimbo, is part of iSpot's conti
As regular iSpot users have seen, we've introduced a number of changes to the site recently, to allow for the continued growth of new iSpot communities in many parts of the world. The first of these has been established in Chile, and we are delighted to welcome them to iSpot.

The iSpot Chilean community achieved success within its first few days with the discovery of a tiny chiton (a type of mollusc) that had not been recorded for 72 years. The endemic species, named Calloplax vivipara, found by local expert Moisés Aguilera, is unique among chitons in giving birth to live young. Jonathan Silvertown, Professor of Ecology and Director of iSpot, visited Universidad Catolica del Norte in Coquimbo, 500 km north of Santiago, with a group of students and biodiversity scientists who made the discovery. Prof. Silvertown said: "I was impressed by the knowledge and enthusiasm of the students and what they achieved in a very short time".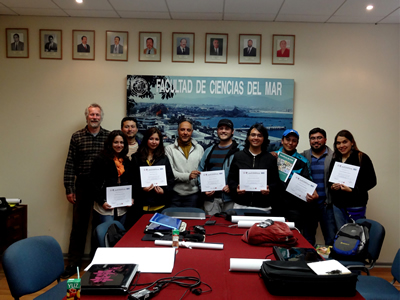 Proud students display their course certificates earned on the iSpot course run by Jonathan Silvertown (centre) and colleagues at Universidad Catolica del Norte in Coquimbo, Chile.
The group spent time recording the local flora and fauna and spreading the word about iSpot around Chile. Other highlights of the week included dolphins, sea otters, sealions, an abundance of seabirds, and endemic cacti. In just a few days two students recorded 86 species on the campus and over 400 observations were made on field trips during the week. Most of these observations now have names validated through iSpot's unique reputation system. The chiton discovery can be seen here: Calloplax vivipara.
28 Oct 2013
Martin Harvey
Main navigation