Settings on your Profile page
Settings on your Profile page - Global : iSpot now offers a range of tools that allow you to customise what you see on the site, to make it easy to get to the areas that you are interested in. These tools give you lots of choices, which is good, but we're aware that they also add a little to the
iSpot now offers a range of tools that allow you to customise what you see on the site, to make it easy to get to the areas that you are interested in. These tools give you lots of choices, which is good, but we're aware that they also add a little to the complexity of iSpot! Most of them can be set once and then forgotten about, but all can be changed as and when you need to. (This only applies to registered users who are logged in to iSpot.)

Your Profile page
The best place to start is to look at your Profile page - click on the menu at the top-right of the page, the one that has your user name, and choose Profile:


At the top of the profile page there are three settings that you can adjust: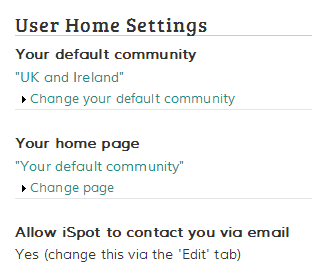 "Your default community" is the main geographical community that you wish to belong to. You can change this to one of: Global; Chile; Hong Kong; Southern Africa; UK and Ireland (more communities will be added in future). Which one you choose as your default community will be the one you see when you log back in to iSpot. While using the site you can easily switch to a different community using the "Communities" menu at the top-right of each web page, but your default community will remain as the one chosen on your profile page.

"Your home page" is the page that you will see each time you go to iSpot's home page. You can choose one of two options for your home page:

"Your default community" - this will set your home page to the 'traditional' iSpot home page, with a carousel of images for the community that you chose as your default: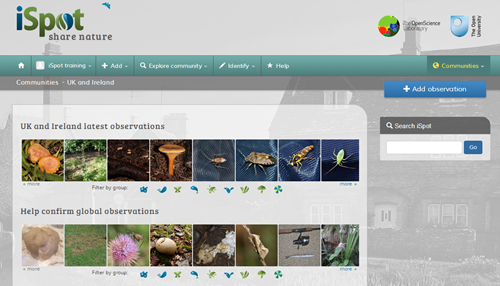 "Your iSpot" - this will show the Your iSpot page, with its summaries of your own activities on iSpot: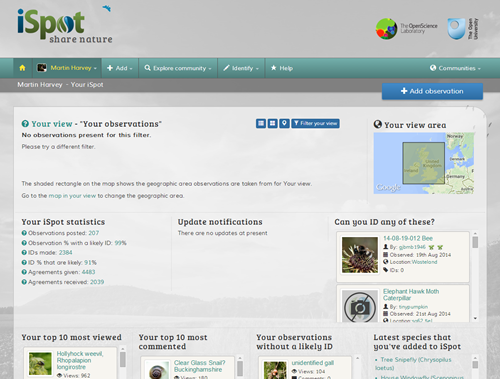 Whichever one of these options you choose, that is the page you see each time you go to Home. You can change the setting at any time by returning to our profile page.

Finally there is an option to "Allow iSpot to contact you via email". Occasionally we would like to be able to distrobute news updates to iSpot users via email, but if you would prefer to opt out of this please click on the "Edit" tab at the top of your Profile, and untick the box there: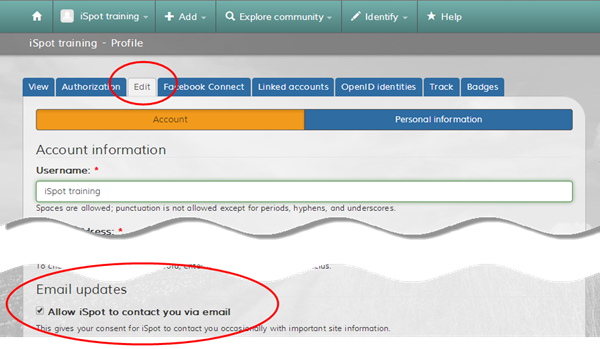 21 Aug 2014
Martin Harvey
Main navigation