Where to find things on the new iSpot
Where to find things on the new iSpot - Global : Here's a quick tour of the main iSpot features, for new users, people who were familiar with the old version of the site and want a guide to the new one, and anyone who hasn't yet explored all that iSpot has to offer! Before you log on to iSpot
Here's a quick tour of the main iSpot features, for new users, people who were familiar with the old version of the site and want a guide to the new one, and anyone who hasn't yet explored all that iSpot has to offer!

Before you log on to iSpot
If you are just viewing the site, and haven't yet registered or logged on, these are the menu headings that you will see at the top of the page:


Looking at the symbols and menu headings in the blue-green strip from left to right, the first thing you'll see is an icon linking back to the home page:


Next comes the "Explore community" menu - click on this to see the options available: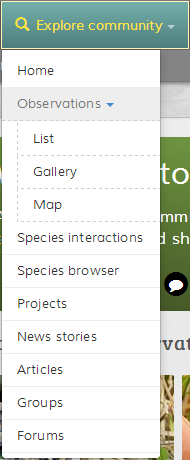 This menu is all about exploring the wildlife observations, news items and forums on iSpot. Try out the different menu choices to see which are of interest to you. If you were familiar with the previous version of iSpot you'll see that a couple of names have changed: the old "Species Surfer" is now the Species browser, and "Ecological interactions" is now Species interactions. And there is a new feature in this menu, the Projects (more details to come on this).

Now try the "Identify" menu: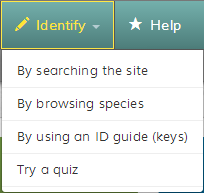 Here you can search iSpot for a particular species, and there is another route in to the Species browser. You can also use our identification keys, and try out the quizzes to test your skills!

The next 'menu' takes you straight to our Help pages:


And then finally, on the right-hand side, the is a "Communities" menu: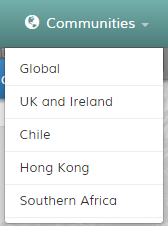 This shows the geographical community that you are currently linked to, which controls which set of observations you see on most pages of iSpot. To see all the observations from all parts of the world, choose Global, but if your main interest is in just one region then choose that. You can change your choice at any time, but each time you log on to iSpot it will start off by going to your "default community". You can control which community is set to be your default, see the Settings on your Profile page. Further communities will be added over time.

After you have logged on
Once you've logged on to iSpot you'll see two additional menus (and a few extra choices in some of the other menus). The first additional menu (immediately to the right of the Home symbol) will be headed with your user name - for example:


This lets you view links related to your own activity on iSpot, plus your profile settings. Try out the links - if you are familiar with "My Spot" on the previous version of iSpot you'll find that this has been renamed as "Your iSpot", and contains new summaries of the observations you've added. There are also a couple of brand new features here: Projects, and Your view (further information on these will be available shortly).

The other new menu is headed "Add":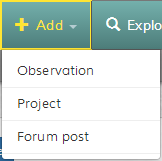 This is where you can add your own observations, forum posts and projects to iSpot.

We hope this new menu structure will be easy to find your way round, once you've had a chance to explore it!

20 Aug 2014
Martin Harvey
Main navigation