iSpot communities
iSpot communities - Global : iSpot now allows you to choose between different communities for different parts of the world - you can choose to be in the Global community to see all the observations that are added to iSpot, or you can choose a regional community just for your part
iSpot now allows you to choose between different "communities" for different parts of the world - you can choose to be in the "Global" community to see all the observations that are added to iSpot, or you can choose a regional community just for your part of the world. You can change your choice at any time - read on to find out how.

There is now a menu towards the top of the page that allows you to choose an iSpot community - the choice you make will control which observations you see, as well as filtering various other pages (such as news items) to the region you have chosen:


At the moment there are five choices:

Global
Chile
Hong Kong
Southern Africa
UK and Ireland
Choose the community you wish to see, and the 'carousels' of images that you see on the iSpot home page will be filtered to your choice. If you choose "UK and Ireland" the carousels will only show those observations that relate to locations in the UK and Ireland, but if you choose "Global" you will see everything from all round the world.

Once you've chosen which community you wish to join, iSpot will stay in that community until you change it again, or until you exit the website. When you go in to iSpot again, it will start off by showing whichever community is set to be your "default community". You can control which community is set to be your default, see the Settings on your Profile page. Further communities will be added over time.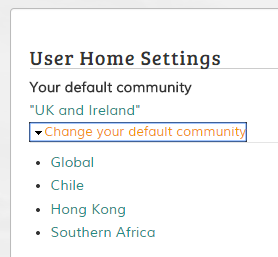 07 Oct 2013
Martin Harvey
Main navigation