Weevil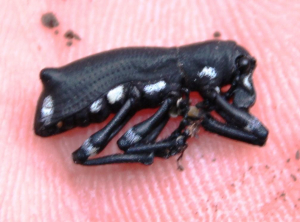 Observation - Weevil - Chile. Description: Sorry: these photos are lousy!! Such a pity - it was a magnificent beast. The start of serious problems with my camera. The autofocus motor is not working at both ends (one unfortunately being the macro end) - this is serious as I cannot see the scre
Sorry: these photos are lousy!! Such a pity - it was a magnificent beast.

The start of serious problems with my camera. The autofocus motor is not working at both ends (one unfortunately being the macro end) - this is serious as I cannot see the screen without my (fogged) glasses and so I rely on the camera to work properly. And the camera now consistently switches off during photographs - accompanied by a "dropping" of the lens (?? image stablizer problem??) - When this happens the photo does not save - alas I only just found this out here about 3 hours after the dropping first started. I hope it lasts for at least 3 more days ...

I hope there is something salvageable here.
Main navigation