Facebook integration with iSpot
Facebook integration with iSpot - Chile : [upload-images-home_page_thumb.png] The iSpot team have introduced an exciting new feature which allows you to connect iSpot with your Facebook account and pos
The iSpot team have introduced an exciting new feature which allows you to connect iSpot with your Facebook account and post your observations to your facebook timeline at the same time as posting to iSpot, allowing for further comment and discussion with all your Facebook connections as well as on iSpot.
The main changes and some simple guidelines are given below.
Changes to iSpot's login with Facebook
The existing mechanism to authenticate with Facebook has been removed, so you will no longer see the small icon (shown below).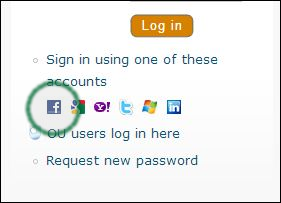 old Facebook login on iSpot - now removed
In its place is a large 'Connect with Facebook' button (shown below), along with a display of any of your friends on Facebook who have already linked to iSpot (this will only show if you have an active Facebook session).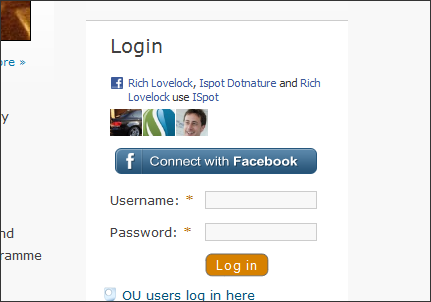 new Facebook login on iSpot
This 'Connect with Facebook' button can be used by both new and existing users of iSpot.
New Users
If you're new to iSpot you can use the 'Connect with Facebook' button to create a new account on iSpot using your Facebook credentials.
Existing Users
You can use the 'Connect with Facebook' button to link to your existing iSpot account with Facebook providing you've got the same email address for both accounts (if your email addresses aren't the same see below on how to link accounts). Alternatively you can login to iSpot with your prefered method but still link to Facebook by following the instructions below.
Linking accounts when emails don't match or you've already logged in
Once you've logged into iSpot using your preferred method (but not the 'Connect with Facebook' button) you'll see a 'Connect to Facebook' link (shown below) in your personalised links block.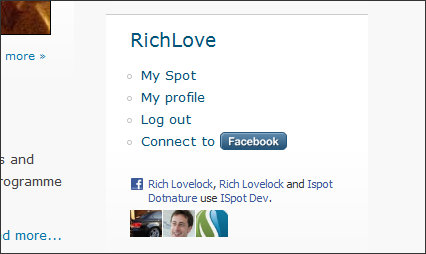 'Connect to Facebook' link on iSpot
Clicking the 'Connect to Facebook' link will associate your current iSpot account with your Facebook account regardless of whether the email addresses on your accounts match.
Connecting to Facebook
When you choose to connect with Facebook for the first time, you will be presented with an authentication dialogue box from Facebook requesting you to grant iSpot permission to your basic details.
Click on the 'Login In with Facebook' (shown below) button to grant iSpot permission to post observations to your Facebook timeline.
Facebook authentication dialogue box
Stopping your observations being posted to your timeline
If at any time you wish to stop posting your iSpot observations to your Facebook timeline, you can do so by going to the 'Facebook Connect' tab in your iSpot profile and unchecking the 'Share to Facebook' box and clicking 'Update Setting'. You will still be able to authenticate and login with the Connect with Facebook button on the homepage but your observations will no longer be posted to your timeline.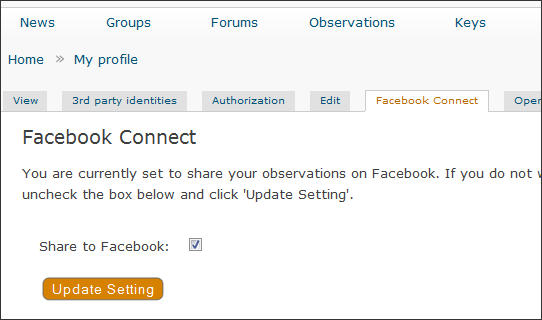 Facebook Connect tab in your iSpot profile
What you'll see on Facebook
This section gives a brief overview of what you and your friends are likely to see on Facebook as a result of associating iSpot with your Facebook account.
The timelineThe following screenshot shows an example of an how an observation posted to iSpot will appear on your timeline and to your friends. It has the main details and image of the observation. This screenshot also shows the observation appearing in your recent activity dialogue box.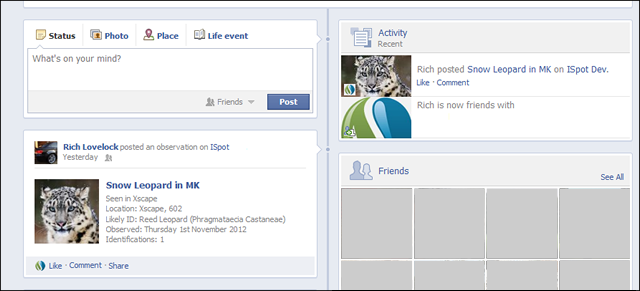 Facebook Timeline showing posted observation
The mapPart of the data sent to Facebook about your observations is the geolocation reference. This allows us to create a map based aggregation of all your observations. The map is interactive once you click in to it and if you click on a map pin it will give you a pop up with the main details from your observation with links back to the original observation on iSpot.
Facebook Timeline map aggregation showing posted observations
Your activity logYou can filter to see your all of your iSpot activity on iSpot by clicking the 'Activity log' button in the top right corner of your profile.
Activity Log button
By default this shows all your activity on Facebook and each of the observations posted from iSpot. Your observation should show by default on the news feed of your friends. Facebook uses various algorithms to dictate which items posted from external services get shown on your timeline. If a particular observation isn't showing, from the Activity log view shown below, click on the small circle icon to the right of the observation and select 'Shown on timeline'.

Option to ensure observation is visible on Timeline
You can further filter your activity log to only show activity posted from iSpot by clicking the drop down box in the top right corner and selecting iSpot from the list of apps that is shown.
Filter to see iSpot activity only
We hope you enjoy this exciting new feature of iSpot and sharing your observations with a new audience in addition to iSpot.
22 Nov 2012
anon_VbZVh0fX3v1498524935
Main navigation